How to Control Your Business Speech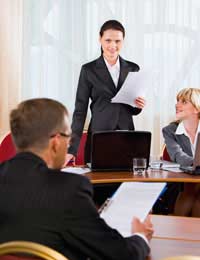 Keeping control of a business speech is important, although how rigid you need to be does depend on the subject of your speech and the audience. This article covers staying in control; refusing to allow interruptions and questions to get out of hand and take the speech off on irrelevancies.
Keeping control of a business speech in the sense of keeping to a timetable and a format is covered in a separate article in this section.
Striking a Balance
There needs to be a balance between control and debate in any business speech. If you are making the speech in order to interest people in your field and your company's services in the hope of generating sales, you are unlikely to win business if you keep strict headmaster-like reins on the affair.
But if the idea of making the speech is to impart new information, possibly contentious, then it is likely that debate will make it more interesting and memorable. Either way the main factor in losing control is likely to be questions from the audience.
Lead Your Audience
The main thing to do when making any business speech is to tell your audience what you expect from them so that they can act accordingly. If you want people to interrupt with questions, then tell them at the beginning. Particularly in the UK people otherwise may not ask questions until the end and if you wanted debate throughout then you won't get it.
If, on the other hand, you would rather get all the information out in the open without deviating, then tell the audience that you want to do that and that you will take questions at the end. You can even suggest to them that they write their question down so that they don't forget them. Tell them also how long you have allocated for questions at the end.
A Middle Way for Handling Questions.
A good middle ground is to suggest to people that they are free to interrupt during the speech but only to check a fact or to clarify something. But make it plain that general questions should be left for the question period at the end of the speech.
This allows quick and easy questions to be got out of the way and help people's understanding of your business speech, but you must control these to make sure they don't get out of hand. When making this clear at the start of the speech you need to state that you might defer these questions if you believe that they will be answered during the course of the speech.
If you go for this option it's a good idea to write down the questions that are deferred, either on a notepad or nearby whiteboard or flip chart. Or you could enlist the help of a colleague, or perhaps one of the organisers of the event, to collate those questions. Either way you can make sure that they are brought up at the end to check with the person who asked the question and make sure the answer has been covered.
Keep Answers Under Control Too
You need to control the answers as much as the questions. Often we see business people answering a question from the audience with a simple statement and then thinking that's not enough and going on to re-explain the point and give examples. Go with the simple answer.
If you are not sure if you have adequately answered the question, or perhaps the person who asked the question looks blank, then just ask if you have answered the question. If they say that your answer was sufficient then move on, asking if there are any other questions.
Get Ready to End a Questions Session
Have a backup plan if the questions section looks to be over-running or getting irrelevant. Find out beforehand from the organisers when the next refreshment break will be and be prepared to cut through the noise. Tell people that you need to finish up to keep to the schedule and that if people have further questions or points they want to make then you are happy to be collared at that next break.
If there won't be a break before the end of the event, make sure that you give out your contact details on a presentation slide or whiteboard and ask people to email or phone you to have questions answered.
You might also like...