Speech for Joining a Company as a New Manager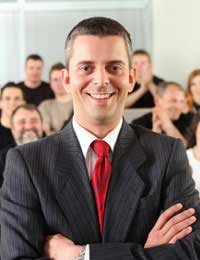 When you join a company as a new manager, the core requirement of your introductory speech is to show the qualities that will encourage and enable your staff to be successful. Your speech needs to convey your aims and illustrate how you will be an approachable, inspirational leader.
Your first speech as a new manager is terribly important because it will shape your employees' opinion of you and so have a great impact on your achievements in your new role. You do not want to sound like the boss from hell, nor do you want to come across as a pushover.
Use the following tips and template to help you strike the right balance.
Preparation for Your New Manager's Speech
The key to setting the right tone is to fully understand what you are trying to achieve. This, invariably, depends on the current position of the company, the role of the team within the company and what you have been recruited to do. You should already know this from the recruitment/interview process and your market knowledge – perhaps the company is failing and you have been brought in to turn things around, or you may have been recruited to bring fresh ideas to a sluggish department. Whatever the reason, make sure you know it and design your speech to reflect your brief.
Template for Your New Manager's Speech
Use this template as a guide to ensure you cover the key elements of a successful speech for a new manager, but also to make sure you set the right tone for your new job. It's nearly impossible to change your employee's first impression of you and it will have a direct impact on your role, so make it count.
1. Introduce Yourself
Gather your new employees together in an appropriate setting – perhaps the boardroom, an open-plan meeting area or your new office, depending on the circumstances and the size of the team. Make sure you look the part – a sharp suit is always good, with a little creative twist if appropriate. Be on time and insist everyone else is too; it's all part of setting the right tone.
Gather everyone together
Introduce yourself in a suitable manner
Say you are excited to be working with your new team
Give a brief personal/professional history
Example: I wanted to gather you all together to introduce myself and tell you a little bit about my plans for (company/department name). As some of you may already know, my name is (name) and I have joined (company name) as part of the new sales-focused initiative. I have been told that you are an enthusiastic, results-driven team and I am looking forward to utilising your talents for the benefit of us all. I come from a high-value sales project background and will be introducing some new projects to help us reach our potential.
2. Make Your Aims Clear
It is important to start as you mean to go on. Now you have introduced yourself in a friendly manner, you need to make your professional aims clear. While you do not want to make ultimatums or get off on the wrong foot, you do need to come across as strong, fair and inspirational in order to get the best from your new team.
Highlight your aims for the team
Make it clear that you are approachable and fair
Explain how you will get the best from your team
Example: In order to achieve the new sales-focused initiative aims, I will be spending my first week speaking to each of you in turn. We will have a one-to-one opportunity to appreciate the challenges you are facing in your role and how I can help you reach the next level. I want to highlight the fact that I will rely on you each to be honest with me and, in turn, I will be honest with you. I have high expectations of every one of you and I have no doubt that, together, we can exceed the sales targets.
3. Build Loyalty and Shared Expectations
In order to empower and encourage your new team to work as hard as possible, they need to want to work with you. You need to come across as a manager that will fight their corner and support them as individuals. You do not need to be 'one of them' as, after all, you have to manage them, but you do need to build loyalty and shared expectations. By finishing your speech in this way, your new team will leave the meeting on a high and feeling positive about their new manager.
Show that you will support your team
Conclude with a positive message
Example: I am sure that we can work well together and I know that you are all capable of a great deal. I am here to help you reach your potential so I'm relying on each of you to prove me right!
New Campaign?
Time your introduction with launching a new sales campaign -
here's a great way to intoduce it and motivate your new staff
!
You might also like...
I was a cashier before at my place of work. now, i have been promoted as a new branch manager so, i was told i am going to give an acceptance speech to my colleague,board of directors and my managing director. pls i need your help on this....its a finance company thou
Queenancy
- 30-Aug-23 @ 12:45 PM
I need help for privilege speech for a new manager
Ghg
- 16-Dec-22 @ 4:05 PM
Take over speech for the new station at local government
Nadomosiya
- 27-Jul-22 @ 5:56 PM
I am a BODYSHOP MANAGER of an automobile company dealer. Now I am join a new company as a BODYSHOP MANAGER. Please help what is the 1st meeting speech.
Dhrubajyoti Biswas
- 6-Jul-22 @ 11:31 AM
I am joining a new health health related non governmental organisation, kindly help me with an inaugural speech.
AbdulV8
- 24-Mar-22 @ 10:17 PM
Am going to join a new company as aGeneralManager, please advise me how to give my first speech.
EXTRAS
- 13-Aug-21 @ 10:54 AM
I am being promoted within same company in a managing director for retail sector in bankingindustry and i need help in speech specifically for 2 things: what to provide the people / what is there for them and how to communicate clear goals which are expected from them. I am leading more than 250 people. Thanks!! Vanja
Vanja
- 21-Jul-21 @ 10:57 PM
I'm going to join a new company as area sales manager need help for my first meeting to introduce myself.
Nani
- 6-May-21 @ 6:44 PM
I am going to be a Director of nursing in an Assisted Living Community of 150 people and a staff of 50, 2 RNs, 3 LPNs and 30 Nurses aides. I want the staff to know I have been a nurse for 20 years and have extensive experience inthis area. And that I will rely on them heavily in the next 90 days as I learn my duties, learn name and the residents. IAm open to suggestions and will listen to their suggestions if they comply with state regulations, to residents safety and meaningful to their care, facility budget allows fills the philosophy of the facility. I will meet with them individually to get to know them better, and they may ask questions of me and my philosophies at that time. I would like to add a little humor in this speech, or add a saying of some kind. Maybe a medical saying. Thanks for your help.
Gerri
- 16-Apr-21 @ 2:18 AM
Hi, I am joining a new Bank as a Branch Manager and I have to introduce myself on the first day. Please help me with a introduction speach. Thanks
Prasanna
- 11-Apr-21 @ 4:39 AM
I am joining a new company as a credit manager how to speach
Chin
- 4-Jan-21 @ 10:33 AM
I am the new manager at a Retirement Village. I need help with first day speeches, one with the Residents and one with the staff Regard s George
George
- 9-Nov-20 @ 12:50 PM
I am the new CLO for corp members on my local government I need help for introduction speech in this regard thank you
Ola
- 19-Oct-20 @ 9:19 PM
I am joining to a hospital as operation manager
Habeeb
- 16-Oct-20 @ 4:55 PM
Please help me have business speech as a consultant for marketing and management. Thanks.
I m Going New Company in next week as a Area manager sales.kindly proved Email format introduction. .
Amol
- 26-Jun-20 @ 7:51 AM
I have been promoted as a Regional Sales manager from a sales Team Leader in company,need help for my first meeting to introduce myself.
purifier
- 11-May-20 @ 9:23 PM
I am joining a sales manager next week. Please provide introduction speeech. Thanks
Please am joining a new company on Monday as the supervisor, I need your help on how to introduce myself please. Thanks
Nicky
- 6-Feb-20 @ 2:38 PM
Hi, I am joining a new company as a Branch Manager and I have to introduce myself on the first day. Please help. Thanks
Santosh Suren
- 11-Dec-19 @ 2:45 AM
I havejust been called as a small scale hotel as a Food and BeverageSupervisor with marketing responsibilities. What would be my first address to my subordinates be? And, please advise on how to raise sales and workmanship in the hotel
Eto'o
- 30-Nov-19 @ 9:18 AM
Am joining anew organization as credit controller,kindly advice in agood motivating introduction speech
nyar dayo
- 28-Nov-19 @ 12:52 PM
I have joined a new company as a manager please I need help for introduction speech in this regard thank you
G Michelle
- 1-Nov-19 @ 9:54 AM
I have to be joining a new company as a Manager. I need help for introduction speech in this regard.
raja
- 21-Aug-19 @ 12:47 PM
I am going to join a Thrift and property management company as a Branch Manager, Please advice me on the guidelines for the managerial speech
Ifeanyi
- 29-Jul-19 @ 2:15 AM
I'll be joining the bank taking the role of assistant manager and I have to introduce myself so please help with the introduction as a new employee
Gin
- 16-Jun-19 @ 3:00 PM
Joining as Branch manager in charge of LIC of India
Subrata
- 4-Jun-19 @ 6:27 PM
I am joining a new company as a manager. Pls I need ur assistance. What are required of me. Speech, address memo, meeting etc. How to handle it effectively and efficiently. Thanks
Emmaco Dee
- 8-May-19 @ 12:18 PM
Hi, I am joining a new company as Finance Controller and I have to introduce myself on the first day. Please help. Thanks
KingGold
- 25-Apr-19 @ 1:17 PM
I going to join oil company kindly help me with introduction speech
Donny
- 9-Apr-19 @ 7:00 AM