Using Notes and Cue Cards in Your Speech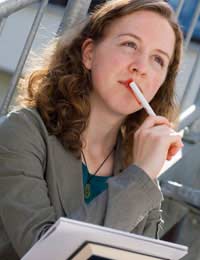 Lots of people making a business speech will not be able to produce the speech completely from memory. It's common to rely on cue cards or other forms of notes to remember the sequence of a speech or presentation.
This is not particularly a bad thing despite many people new to business speaking feeling that it is a display of weakness. At a conference on green business issues last week three out of the four speakers, all experienced business speakers, used notes or cue cards, so they obviously felt comfortable doing it.
Keep it Brief
The one thing to avoid with cue cards though is to write down too much. There's no way you'll be able to read it all and deliver a good speech, giving the audience plenty of eye contact. At best you will lose your place and then have to flounder about while you find it, or not be able to read your small script. At worst you may even end up reading the whole thing with your eyes down on the cue cards for the duration, something that won't look good.
So make sure that you stick to bullet points on your cue cards, or key phrases that will jog your memory about the point you need to make. Add in any important facts or figures that you'll be quoting to make sure you get them right, and make sure that everything is written or printed in a font large enough for you to read while standing up.
Tying Cue Cards in to a Computer Presentation
If you have a computer presentation accompanying your speech, write the cue cards so that you have one cue card per slide. Then when it's time to move on to a new point and a new slide, you can switch to the next cue card, all three actions emphasising that you are moving on to the next section of the speech.
Be careful that your cue cards don't simply repeat the bullet points that you are displaying on the screen. You can look at those yourself, either on the laptop screen in front of you or on the big screen, even if it means turning round a little. Instead use the cue cards for extra information that will enhance the presentation.
Use Technology to Help
There is an option of using the computer that's controlling your presentation, to give you the prompts you need, but it is a risky business. Many modern laptops will give you the option to display two screens, the laptop screen and the projector. Usually these show the same picture, the presentation, so that the speaker sees the slide that is being projected behind him for the audience. The speaker controls this using function keys.
But a high-end business quality laptop may well have the ability to show a different picture on the external monitor. This means that you can show the presentation on the external port (the projector) for the audience but have your own display on the laptop's own screen, where you can put whatever you want.
Inherent Risks
The risk is that when you get to the venue for your business speech you discover some technical reason why you are unable to use your laptop. You will inevitably then find out that whatever PC is used to control the presentation at the venue doesn't have this dual-monitor capability.
So it's wise to take cue cards as well as your laptop so that you are covered either way.
You might also like...