Speech Before Taking a Sabbatical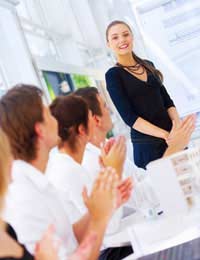 As sabbaticals become more popular, it is gradually becoming easier to explain the concept to your boss and colleagues. But do remember that it is pretty difficult to jump for joy when someone else is going to have a wonderful experience, instead of you. When you tell your colleagues about your impending sabbatical, their first thought is more likely to be about how it will affect them, rather than the super-smashing, life changing experience that you are going to have half-way up a mountain.
Consequently, your speech needs to focus on how your desk/job will be covered while you are away, rather than regaling your colleagues with plans for your trip. Of course, they will be interested to know what you are going to be doing for your sabbatical, but keep the 'what's in it for me?' saying at the forefront of your mind.
1. Tell Your Colleagues That You Are Taking a Sabbatical
If appropriate, gather your colleagues round to tell them that you are taking a sabbatical. This is only really likely to be suitable if you lead a team, otherwise it may seem a little over the top. If your role affects other people, it may work well to incorporate telling your colleagues of your plans into another meeting – perhaps your weekly Monday morning marketing meeting or the Friday afternoon team drinks?
Pick a time and place that's suitable to your position
Say why you have decided to take a sabbatical
Example: While we're all here to discuss the Camborne project, I'd like to make a little announcement of my own. At the end of next month, I'm going to be starting a six month sabbatical. I'm lucky enough to have joined an organisation that teaches English in Indian villages and I'm going off to learn about a new way of life for a while.
2. Explain How Your Position Will Be Covered While you're on Sabbatical
If you want to talk more about the actual sabbatical and what you are excited about seeing and doing while you are away from the workplace, it is probably more suitable to do this on a more informal basis, perhaps over lunch or during out-of-work drinks. Even if your boss has been totally supportive of your plans, they do not want to hear you talking about it every time they see you or they'll soon go off the idea.
Be clear about what will happen to your work responsibilities
Highlight if you plan to be contactable during your sabbatical
Mention if there will be a temp covering your desk
Explain when you will be returning
Example: The timing of my sabbatical fits in nicely with the end of the Camborne project. While I am away, I will be able to check my emails every few days and will have a mobile for emergencies – but I can't guarantee a signal all the time! You may remember Julie, who worked with us for a few months last summer? She will be back to cover my desk and will be able to answer any of your questions until I am back at the end of November.
3. Talk About the Benefits of the Sabbatical
Although you don't want to wax lyrical about your trip and make everyone feel jealous and annoyed that you won't be in the office, it is a good idea to highlight how your experience will help you to achieve more in your job when you return. Now is also a good time to suggest leaving drinks.
Highlight what you hope to learn
Say that you will miss your colleagues
Suggest a date for your leaving drinks
Example: The organisation that I am working with in India aims to help increase adult literacy in local villages in order to support the education of their children, so I am hoping that the skills I have learnt here will come in useful. My experience in developing the new training programme should help and I'm sure I will come back with some new ideas. Although I know I'll be busy, I'll miss you all and hope that you will join me for a glass of wine or two at the George and Dragon next Friday afternoon.
You might also like...