Annual General Meeting Chairman's Report Speech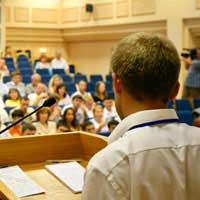 The chairman's report is a major part of an annual general meeting (AGM) for any company. Depending on the format of the meeting, and in particular whether any other board members are speaking, the speech will be seen by shareholders as a major indication of the strength of their investment.
Function of the Chairman's Speech at an AGM
The main business of an AGM is inevitably the financial performance of the company based on the last set of financial results that are available. For many AGMs this means that the chairman will only need to deliver headline figures as a separate speech by the finance director or chief financial officer will go into the figures in detail.
This allows the chairman to spend more time getting any other messages across. The content is likely to be about the real world happenings that are responsible for the figures being discussed. The main purpose of the meeting is for shareholders to be informed about company performance and to ask questions about it too.
Introduction to a Chairman's Report
The chairman's speech should report on the major occurrence of the year so the introduction should place that in context.
Welcome shareholders and other interested parties
Make it known that you appreciate their efforts to be present.
Introduce the members of the board who are present with you.
Explain the main phases and timings of the meeting
Give an outline of the speech to follow
Examples: We have three hours arranged for this meeting and the timetable is as you see in front of you, in brief we will … (run through the main sections of the AGM). I will be giving very top line financial figures but the bulk of the details will come from the FD's speech. I will give an overview of performance in the last financial year and the reasons, both externally and internally, behind that.
The Meat of the Speech
There is a balancing act to be done here. If you give too much detail you will bore everybody but if you give too little you will be accused of trying to gloss over the details.
Run though the key events of the year
Give the internal and external environmental factors that affected those events
Try and balance good news and bad news throughout
Explain targets and main initiatives for next year
Consider accepting questions but only to clarify points (see below)
Examples: Sales have been increasing steadily in UK and Europe but our real growth is in Far East Asia and this has compensated, to some extent from the loss of sales value in the USA because of exchange rate fluctuations. Costs have been lowered considerably as a result of moving the customer services fluctuations overseas and although customer satisfaction is down we're working with suppliers to remedy this.
Question Time
It's worth digressing into how to handle questions from shareholders; you have two main choices. You can either allocate time for questions later in the AGM or allow questions to be taken while you are speaking.
It's worth going for the former option. The problem with taking questions during the chairman's speech is that you can be dragged into topics that will probably be covered by other directors later in the AGM. As mentioned above you can allow questions purely to clarify a point (i.e. 'point of order' questions), but there is a risk that you will get sucked into discussions so you must chair the meeting strongly in this respect.
Finishing Off a Chairman's AGM Speech
As you are only the first act in what will probably be a long session there's no need to draw out the closing stages of the speech. Make sure you thank anyone who needs to be thanked who might not be lauded in another section of the AGM and then hand over to the next speaker.
An AGM is Now Optional
Interestingly changes in the Companies Act in 2006 mean that since October 2007 UK companies are no longer required to hold an AGM. If there is a requirement for an AGM in the company articles then it must still be held, but otherwise it is optional.
So if the whole process is one that you'd rather not go though, you can now opt out.
You might also like...
I would love to get details on reporting for state owned companies and other public companies.
FDR
- 12-Feb-23 @ 4:10 PM
Very useful website - any professional shall love it once seen and browsed . It has a well organizedspeechflow, very useful to leaders as well as upcoming leaders, provides confidence....Thank you so much
Very concise, precise and informative piece.
ODHIS
- 10-Oct-20 @ 5:00 PM
This website was very useful I have to write an intro as a chairman for Wednesday and this really helped me!
xmomax
- 6-Feb-20 @ 6:12 PM
Your information are very useful. Thanks
Abu Aishah
- 29-Sep-19 @ 12:24 PM
I would love to get more details on a professional sports chairman's report.
Rasta
- 8-Mar-17 @ 7:56 PM
It is very informative and useful for any professional. I love to read and adopt some of the ideas from this business speeches. Thanks a lot.
Francis
- 6-Sep-12 @ 7:58 AM