Presenting at a Networking Event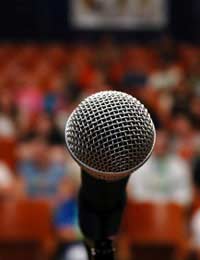 Giving a business speech at a networking event is a great way of marketing you and your company's offerings. Let's face it, the people there are only in the room to do business with each other. The only snag is that more people go to sell than buy, so it is sometimes difficult to find buyers.
Be that as it may, networking event organisers are often pleased to find people who are prepared to talk at their event. The emphasis must be on entertaining and informing rather than selling though. Everyone expects a presenter to be selling at a network event but it has to be a soft sell. If a networking event gets a reputation for just having sales speeches then attendances will quickly begin to fall.
Beginning a Network Event Speech
It's important to thank your hosts, both the organiser of the event and the venue. Start with the usual core principles of a business speech and prepare the audience for what you are about to say.
Introduce yourself
Briefly explain what you are going to talk about
Establish your credibility on the subject
Let people know how long your presentation will be
Examples: I have been with the firm for xx years and today I'll explain how our market works and what challenges we are facing in the current environment; you might be facing similar problems in your own markets. I'll be talking for twenty minutes which leaves five to ten minutes for questions.
Going Through the Presentation
At a
networking event
most business speeches will be accompanied by a presentation so make sure that the venue has the right equipment. You might be wise to bring your own to be on the safe side. Keep a networking speech light to emphasise the informative and entertaining aspect.
Talk about things that are common to most businesses
Establish what you and your company do but as a side theme
Keep the tone light
Examples: Of course we are known for the manufacture and distribution of widgets but we are always trying to find new markets for the skills and assets that we have. The way that we go about doing this might be of interest to other business owners.
Finishing off a Speech at a Networking Event
Round up the speech with, as usual, a summary of what you have been saying. Then you have the opportunity to do a pitch but again keep it light, it could be as simple as asking people who might be interested to have a chat afterwards.
Bring the speech to a conclusion with a summary
Reiterate key points
Give contact details for those wanting to follow up
Thank the audience
Make yourself available after the speech
Examples: So those are the key points again, thank you all for listening and I hope you found this talk interesting and informative. If anyone does want to follow up on any points my contact details are on the slide here, take a business card from the table or have a chat with me afterward.
Keep it Light
Remember that most
networking event
organisers are looking for speakers who are experts in their field but who can also offer interesting and informative talks. So if you are invited to deliver such a business speech, remember to put the hard sell away as few will thank you for it. You are more likely to get business in the future by impressing and entertaining than delivering a sales speech.
You might also like...
Hello, I will like you guys to continue what you are doing it really help me I should be going on a presentation next week so I will like to ask you many questions regarding on networking.
sibo
- 13-Jan-21 @ 2:38 PM
Hi. Am pleased to habe benefitef from some of your good soeech samples on this site but will like yo ask for assistance on the same topic since am preparing for a seminal on digital marketing.
Benny
- 27-Sep-17 @ 11:01 AM