Speaking at a Business Breakfast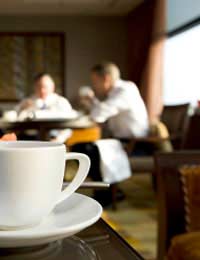 Putting together a speech for a business breakfast is a slightly different proposition to a more formal speech at an exhibition or conference. The tone is usually lighter as the meeting is likely to be less formal, but the job of the speech will nearly always be the same as in any other networking event. That will be to inform the audience as to what you can offer to them and their businesses.
Preparation Before Speaking at a Business BreakfastTime is usually tighter at a business breakfast because many of the attendees will be needing to get away on time to their day jobs. Do not allow this to rush your presentation though. It is far better to pare your presentation down so that you can get the salient points across without appearing rushed.
Find out in advance how much time you will have and what the order of the meeting will be. It is usually better to be speaking after the breakfast, as hungry professionals rarely make good listeners. If you haven't attended this particular event before, find out from the host what the general mood and ambience of the meetings is and tailor your content accordingly
Starting a Speech at a Business Breakfast
This should be no different to any other promotional or marketing speech although you should definitely start with thanking your hosts and the venue.
Introduce yourself and thank the host and venue
Speak briefly about your background to establish your credibility
Tell the audience what you are going to present to them
Let the audience know how long your speech will be
Examples: I really appreciate being asked to come along and present to you today. I'm going to tell you who I am and what a company like ours can do for you. I'll take about fifteen minutes, which will leave a little time for questions at the end if anyone has any.
Getting Your Points Across
Keep the main part of the speech light and informative to suit the occasion. Your presentation can probably be lighter and have more humour than would be suitable for a more formal
networking event
.
Break your message down into bite-sized chunks
Keep the pace brisk but don't rush
Keep detail to a minimum as it might be very early for some people.
Example: these are the key elements that you will find in a proposal should you engage us to work with you. If you want to take a detailed look at a sample proposal you can get it from our website and the details are here (indicate where, either on a leaflet, poster or web address.)
Closing a Breakfast Speech
As with any other business speech, reiterate your key points once more to close. Make sure that you finish by making sure everyone has your contact details, leaving them up on the final slide if you are using a presentation.
Summarise your proposal, emphasising what's in it for the audience
Make contact details easily available
Invite contact from prospects
Example: Thank you for listening to me, I hope what I've said has been of interest and may be useful to you one day. You will find our contact details on the leaflets on the tables as well as on the slide here and if anyone thinks we may be of immediate use by all means come and have a chat with me afterwards.
Specific Points about Speaking at a Business Breakfast
Although in essence a speech to a business breakfast is just a cut down version of a speech to any other
networking event
, there are some specific details that need to be taken care of.
If your speech is accompanied by a presentation, which many are today, make sure that the venue has the facilities you need. This is of course essential for any speech but at a breakfast meeting there won't be many other businesses open where you can hire or borrow equipment. Making sure that what you need is available requires special attention.
Secondly make sure that the hotel or venue staff are clued in. The last thing you want is to have staff interrupting your presentation by clearing tables or offering drinks while you are speaking. If you are unsure how this might go, consider asking the host to suggest that the audience collect their plates together while he or she is introducing you. Then any distractions to your speech will be minimised.
You might also like...