Speech Celebrating Record Sales Figures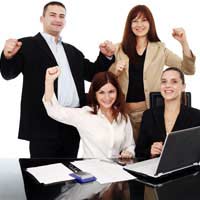 When the economy is in downturn, or even climbing out of it, there will be precious few business speeches that celebrate record sales figures or other major positive milestones. But if anything positive does happen it is well worth making a fuss about it and this applies to record sales as much as any other aspect of business.
A speech to celebrate record sales figures is likely to be given to the sales force or the whole company, depending on the size of the company and how much it's spread around the country, or even the world. You will need to tread a tightrope between praising people for their achievement and not alienating the rest of the sales department or the company
Starting a Celebration Speech
Obviously this is one speech where you can be upbeat and positive throughout. As with any other speech to the company make sure they know how long you will be speaking for and let people know that it's okay to forget about work for a moment.
Welcome everyone
Make the speech upbeat
Let people know how long you will be
Give permission to stop work during the speech
Examples: Thank for coming along, everyone, as there's excellent news to share I think it's worth downing tools for five minutes or so to let everyone know what's been going on.
Celebrating Record Figures
Now deliver the good news but don't get bogged down too much in the detail of the figures. If you know where the extra sales have come from, e.g. stealing them from a competitor or expanding your market, then say so. Congratulate people who have contributed but be wary of singling people out by name since you'll invariably annoy people you don't single out.
Deliver the sales figures
Compare them with previous months/quarters/years
Give background to the increase if it is known
Congratulate people who have been responsible
Make it clear that it's a team effort
Examples: It is with great pride and pleasure that we can announce record sales figures this month/quarter/year and most of the increase has come about as a result of a greater share of the market. This is a real team effort in which everyone in the company has played a part. I'd like to single out the product development team for the new version and everyone in/and connected with the sales team for taking it out there. Well done everyone!
Winding Up a Positive Speech
When closing a speech celebrating performance it's good to praise but you need to be careful that complacency will creep in. So you need to strike a balance, keeping people on their toes but not making them think their efforts aren't appreciated.
Thank everyone again
Make it clear that more can be delivered
Don't make people feel this is not an achievement though
Sign off with a bonus if appropriate
Examples: As I've said, this is a massive achievement and something that we can build on for the future. By continuing to work together and focus on great performance we can have more days like this. To mark the achievement and recognise the hard work that everyone's put into this we will finish at lunchtime next Friday and everyone can have a free half day (or another appropriate bonus).
You might also like...