Speech Opening a Workshop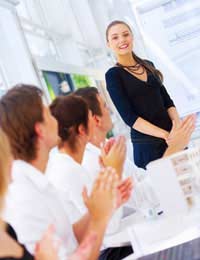 Delivering a speech opening a workshop is a good opportunity to get the most out of a personal development initiative. Although workshops are often part of a meeting of a special user group, perhaps at a conference or exhibition, we're talking here about workshops arranged by companies to get their staff out of the office environment and concentrating on a particular issue.
This might be individual and group discussions on people skills as part of a career development event spread over one or more days. It could perhaps be something that's more product related, developing new ideas or new directions. The core point is the same though; staff and managers will be taken out of their usual work environment, often to a conference centre, and set to work on specific issues without the distraction of day-to-day work.
Opening a Workshop Speech
Workshops can be tricky. Although some people will be aware of their value many will consider it a distraction that's taking their attention away from their work. You need to be able to put staff at ease.
Thank everyone for making the effort
Keep it short so everyone can get going
Keep the tone light
Make people comfortable with the idea of being away from their work
Examples: I'm glad to see you all here and I've got high hopes for what we can achieve while we're here. Coming away from our day-to-day work is important every once in a while and I know that it will be difficult to relax about what's going on back at the office. Please keep your mobile phones and laptops off for now; there will be set times during the day when we'll be able to check in at work.
Nuts and Bolts of the Speech
This is where you can be completely clear about what's wanted from the attendees. Run through the timetable briefly but don't bore everyone by doing it in detail. Be clear about the goals of the event.
Tell everyone why the workshop is being held
Lay out the expectations
Introduce people who are leading individual events
Say that there'll be some fun activities too (if appropriate)
Examples: We're here so that we can identify managerial skills that can be enhanced (or whatever the goal of the workshop is) so that the company can move forward and resolve practical and commercial challenges as and when they happen. We recognise that it's hard to make time to work on these things in the office when we're under day-to-day pressures. The intention of this event is that we all relax a little about that and focus on long-term development.
Closing a Workshop Introduction Speech
A speech of this kind should be kept short and in closing you should really only need to make sure that everyone has what they need or knows where to get it.
Thank everyone
Make sure they are clear about what's expected
Wish everyone well
Examples: I hope everyone is now clear about what we're going to achieve during this event. I have high hopes for this event and if there's anything that's stopping you from getting fully involved please let me know so that we can try and resolve it. The timetables are here and they also have contact details for the people facilitating the event. Do enjoy yourselves and I expect everyone to take everything that they can from this event.
You might also like...
Introductory speech for chemistry research relate topic...and how to call names one after the other...
Need inaugural speech welcoming participants and thanx for management to organise this workshop on New software
Mooti
- 19-Mar-18 @ 2:59 PM