Team Building Event: Introductory Speech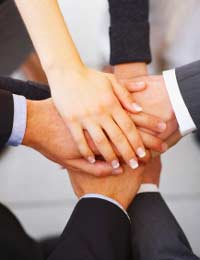 Many companies hold team building events and the speech opening the event will be an important part of it, setting the tone for the day or days ahead.
The idea behind team building events is to get people to talk to one another and get to know each other so that back in the workplace they will be able to communicate better and collaborate more.
That this works is not doubted except by some of the attendees. That negativity is something that will need to be addressed during the opening speech, and how you do it will depend to some extend on the nature of your leadership.
General Principles for a Team Building Opening Speech
You need to get everyone on your side for a team building event so the speech has to be pithy, relevant and not send everyone to sleep. Make it as informal as possible so that it seems that you are just speaking off the cuff, thereby giving everyone permission to relax for the rest of the day.
Keep these key points in mind:
Keep it short and informal
Make it practical
Inform staff
Tackle the negativity
End on a high
Make sure you tell your staff the rough timetable for the day and when it will finish. Tell them what to expect in terms of different exercises and describe the mix of fun events, serious events and work-related events. The mix will differ from company to company and probably from event to event. This will depend on the goals of the event, there's no right or wrong, just appropriate.
Tackling Negativity – First Option
Assuming the day is going to be light-hearted and fun then the speech should reflect this too. One way to counteract the negativity that some people will be feeling ("these things are a waste of time" etc.) is to recognise the feelings so that you appear to be on their side then shift position, "taking them with you".
Example: I know, I know, these days are just some idea dreamt up by management consultants, right? That might be true but since we're here now I certainly expect to make the best of it so I suggest everyone else tries too. You never know, you might surprise yourselves!
Tackling Negativity – Second Option
A second tactic is to try and disarm the negative influences by giving other people permission to ostracise them. This is riskier and there may be some fallout after the event that will need to be managed.
Whether or not to choose this second option depends on the culture of the company, your leadership style and the extent of the negativity you may be facing.
Example: I know that some of you will be thinking that this is a waste of time so I'm going to speak to those of you who aren't. If you are next to someone who's pouring scorn on the day, just ignore them and concentrate on doing what you want to do and enjoy yourself as much as you want to.
Closing a Team Building Event Speech
Contacting the negativity is a tricky element which has received a lot of focus during this article but it's not all doom and gloom. Many staff will be happy to have a day out of the office and if there are fun events lined up then people will go along with them.
End your speech on a high, injecting some energy and effectively giving everyone permission to enjoy themselves. Then observe how people work together and see if anyone surprises you.
You might also like...
I would like to ask for an activity to know each other better, build trust and confidence and to strengthen good relationship and Cooper activism.
Bicbic
- 10-Jul-15 @ 3:42 PM