Speech to a Team After a Member Has Been Fired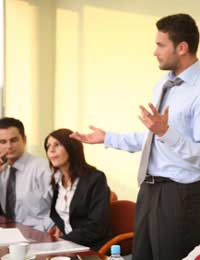 Business speeches surrounding the area of redundancy or firing staff are some of the trickiest but also the most important. Teams must be handled wisely when a team member has had to be fired. As businesses move toward being more open it's important to make sure that employees are made exactly aware of the circumstances surrounding someone's departure. This prevents rumours spreading and damaging morale.
Be Sure of Your Ground
At the same time managers have to be careful about what they say. If someone has been fired or suspended as a result of activity that is against company rules or even illegal, speeches must be clear and unambiguous. But they must not prejudice any criminal proceedings or litigation that might occur.
As an example, someone might be suspended pending an investigation into disappearing funds. If someone then makes a speech saying that they have been sacked for stealing it could give grounds for a slander law suit, particularly if the investigation exonerates them.
Speaking About a Fired Team Member
Introduce the speech to the team by telling them why you are speaking to them. Some team members may not be aware of what's happened so lay the groundwork first. Set the mood as well, which will be different depending on the culture in the company and the reason why the person has been fired.
Thank people for coming
Tell everyone how long you will keep them
Make everyone understand the seriousness of the speech
Examples: Thank you for making the time to listen. I know we're all busy but this is very important. I'll keep it short then we can all get back to work as quickly as possible, less than five minutes. Some of you may know what this is about but I'll cover the facts first.
Talking about a Fired Employee
State the facts as clearly as you can but without releasing any information that might prejudice any action. Don't get personal or angry.
Use short, sharp sentences to enhance the seriousness of the matter
Cover yourself with words like 'alleged' if nothing is yet proven
Don't make any jokes
Deliver any procedurally important information about the situation
Examples: As some of you will already know, Joe Bloggs is no longer with us. He has been suspended while investigations continue into expenses claims. If the investigation shows that he has broken company rules he will be dismissed. He will not be returning to work unless he is cleared. It is important, because of the investigations, that he doesn't talk to any colleagues. So please do not try to contact him over the next few days.
Closing the Speech
Keep the speech tight and short and let the team know what's going to happen next.
Let people know how work will continue
Tell them when and how they will hear more
Close on a positive note
Examples: We will discuss how to re-distribute tasks through the team. This will be done today, so please focus on doing just your essential work to make space for these discussions. We will appoint a replacement as soon as the situation is clear and will consider whether or not getting temporary staff in to cover will be a help or a hindrance. We will update you all in the next few days as the position becomes clearer. Please be patient and do your best not to allow this to affect your work.
You might also like...