Speech to Your Team After Issues With Headhunters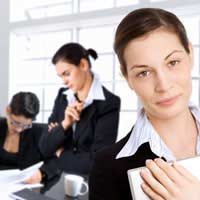 When head-hunters are on your side, they can be great – the perfect people to help you find a super sales person or a tenacious business development manager. But we all know that when head-hunters are against you, they can cause an ill wind to gust through your company.
Many companies have found themselves at the stressful end of a head-hunting cull simply because they weren't prepared. It is all too easy for a head-hunter to target a high-performing individual at your company and then squeeze them for the names of their colleagues for the cost of a frothy coffee and a slice of commission.
It can be hard to spot it when a head-hunter first targets your company, especially if you are in the type of industry where poaching staff and changing companies is common practice. Indeed, it can be a part of many businesses, especially those with a high sales and networking focus, to change around staff and use their book of contacts to grow your order book.
As soon as you pick up the signs that a head-hunter is targeting your team, you need to speak to them to make it clear that you want to keep them on board. Use this speech template to help keep your team motivated.
1. Introduction
You have to start in a positive manner. If you alienate or blame your employees they are more likely to be tempted to leave.
Say that you are aware that a head-hunter has been approaching your team
Don't name employees that have been approached, only those that have left
Be clear how much you value your staff
Example: I wanted to get you all together for five minutes to talk about some issues that have come to my attention. I am aware that Burdon and Bradfield have approached a couple of you since Michelle left us to join Matteo and I am keen to let you all how I feel about the matter. I know that we all work well together as a team and I value your hard work and commitment.
2. Don't Push Them Away
Head-hunters are skilled at getting into the little cracks in employee's minds – they manage to find out the buttons they need to press to get you to think about going to meet the potential employer. When you speak to your staff, you have to be careful not to feel any issues they may have and actually push them more towards leaving. You must be self-aware – if you are known as a bit of a bully in the workplace, coming on heavy handed now will only make your staff leave quicker.
Be positive
Don't fuel the fire
Example: I appreciate that the guys at Burdon and Bradfield can talk a good game and that there may be short-term promotions available, but I would like to highlight the new projects that we're working on and the upcoming reviews that look set to bring some exciting opportunities for us all in the long-term.
3. Be Open to Discussion
The worst thing you can do is force your employees to stay – of course, you can't actually do this, but you can make it uncomfortable. You need to make it so that your employees want to stay, that they're excited and passionate about their future with your company.
Say you hope they will stay with the company
Explain that you are available to talk to
Talk about a new project or event
Example: The recent project in Manchester has shown how well we work as a team. If any of you would like to talk to me on a one-to-one basis about the current situation or your feelings towards it, please feel free to pop into my office or send me an email to arrange a time. I sincerely hope that you all feel secure and valued in your jobs and it is important to me to see you all flourish in your careers.
You might also like...