Christmas Party Speech for Employees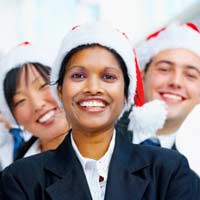 Even if the company has had the worst year on record, a Christmas party is still a time to celebrate. It's the perfect time to toast the possibility of a better year next year and give your employees a bit of a boost.
Furthermore, if you've had a great year, your Christmas party speech is a terrific opportunity to praise your team for their hard work and success.
Either way, your speech at the office Christmas party is a time to be positive, not to whinge about a difficult year or the targets that were not achieved. Of course, you will need to talk about these issues and you may even decide that you at least want to mention them during your Christmas party speech, but the overall tone of this speech needs to be 'thanks for a job well done' and 'Happy Christmas'!
Here is a template to help you set the right tone for your Christmas party speech to your employees – without sounding like Scrooge!
1. Upbeat Introduction
As you are making a speech at the Christmas party, it is likely that your employees are in a good mood. It's probably outside of the office, possibly in the evening and everyone is likely to be dressed up with a glass of wine in their hands. You don't want to ruin a festive, happy atmosphere, so keep it upbeat.
Welcome everyone to the party
Say how great everyone looks
Example: Good evening everyone! It's lovely to see you all looking so festive. I promise not to take up too much of your valuable Christmas party by talking about work, but I wanted to thank you all for a great year.
2. Reflect on the Year
You need to remember that it's a party, but you also need to acknowledge the preceding year. Mention something about key details of the year – projects won and lost, key staff changes – but keep it positive and upbeat. This is not the time for any sneaky comments that could embarrass anyone; you want your staff feeling good at the Christmas party.
Comment briefly on the year
Don't make any criticisms – now is not the time
Example: This year has been difficult and successful in almost equal measures. Winning the Parker project was a real high, with losing three account managers to the competition a bit of a low. However, I'm really proud of how you've all pulled together and the terrific results you have achieved.
3. End on a High
Seeing as this is your Christmas party speech and not a dissection of where people went wrong over the year, or an opportunity to illustrate the targets for next year (discuss these at another opportunity, not now), you don't want to be a party pooper. End on a high – mention something about the excitement of the evening (don't make this speech to late in the evening – straight after the meal is the best time, before too much wine is flowing). Finish by raising a toast to get everyone patting themselves on the back and in the mood for a great evening.
Reveal a surprise about the party
Congratulate everyone for a great year
Raise a toast
Example: That's all I want to say for now…other than to tell you that there will be free champagne at the bar for the next hour to help the party go with a swing! I'd really like to take this opportunity to thank you all for a great year – Cheers and Merry Christmas!
You might also like...
morning ladiesand gentlemen ,we are here today to greet each other and to celebrate the birth of Christ. Christmas is ac time for giving , sharing,loving and forgiven . let put all our difference aside and unite ,as we work to ac heave one common gold. To gather we ac heave ,but divided we willdefeate We must know each other as we work for the one of the best team ,and that team is the A team ,I thank every one that work in this team and guess on behalf of my self and the power generation department we wish you and yours a merry christmasand a happy new year. We have one of the best engineers ,service staff,technical staff,and sanitation staff departmentlet work together for the A Team now togethersituated atCaribanks .
c.m.lall
- 23-Dec-18 @ 6:59 PM
Taurus05 - Your Question:
I don't have talent in hosting. I'd try to search some examples on how to become a host in one night, (laughs) but this site, she give me an idea on how to showcase it. Thanks for this! It's very helpful.
---
Our Response:
Thanks for the kind comments, glad we've helped!
BusinessSpeeches
- 7-Dec-16 @ 10:42 AM
I don't have talent in hosting. I'd try to search some examples on how to become a host in one night, (laughs)but this site, shegive me an idea on how to showcase it. Thanks for this! It's very helpful.
Taurus05
- 6-Dec-16 @ 5:21 AM
I'm in luv with the article, so helpful
Pearl
- 24-Sep-15 @ 7:01 PM
It's a well package lecture, but there will be need for one or two complete speech writeups as examples.......overall it was a good job.. thanks
kelvo
- 3-Dec-11 @ 1:31 AM