Relaxed Speech to Inform Employees of Staff Changes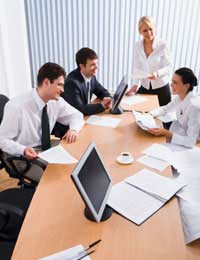 You must not underestimate how worrying office gossip can be, especially when it's focused on staff changes. It is your duty to manage the situation and answer the questions and concerns that your employees will have. That's not to say that you have to go into all the ins and outs of all the staff changes, but you certainly do have to talk to your employees and explain the current staff changes in a way that you are comfortable will minimise gossip.
You will know how quickly gossip gets round your office – in some workplaces everyone knows everybody's business before they've caught up on the morning's emails and in others you have to make official announcements for people to know what's going on. Be appropriate to your employees and company culture. Don't feed the gossip-mongers though, or you'll never be able to do anything without everyone talking about it.
Here is a template for a relaxed speech to inform your employees of staff changes.
1. Don't Say Too Much or Too Little
You'll need to arrange your speech as quickly as possible – ideally before the gossip starts. If you know there is a time when the majority of your employees are in the office – Tuesday mornings are often a good bet – send round an email saying that you would like everyone together for five minutes. Don't let there be too long in between the email and the speech/meeting itself as it will only make the potential gossip worse.
Don't let gossip start
Be informal in your approach
Say that you want to keep everyone in the loop
Example: Thank you all for getting together this morning; I just want to have a few moments of your time to bring you up to speed with a few staff changes in the office.
2. Reassure Staff
It is important to appreciate that your employees' first response will be 'how does this affect me?' Yes, they'll be interested in the staff changes, but once the 'hot news' aspect is out the way, it's more about the day to day impact on individuals. You must also understand that staff changes can be very unsettling. Even if the staff changes are largely positive, it does make people worry about their position and its security. As long as it is appropriate and accurate, make sure you reassure your staff that their job is safe.
Give the facts clearly
Don't be negative about the changes/staff leaving
Reassure employees about their own positions, if appropriate
Example: The staff changes will see Judith Parker leaving us at the end of the month; with Paul Meakin taking over her role. This leaves the account manager's position for territory three open and I am placing an advert in the Guardian this week. If any of you would like to talk to me about the vacancy, please send me an email as soon as possible. Judith is leaving as she has been offered an exciting director's position at Greyshot Associates, so we will be able to wish her the best of luck at her leaving drinks on Friday 3rd.
3. Don't Encourage Gossip
How you deal with this informal speech will affect your employees. Be open to talking to staff individually if necessary. Allow people to ask questions as this will stop gossip from festering – far better to have a question and answer session now, with everyone hearing the same answers – than letting people pass gossip around about why someone is leaving and what's going to happen to their work/team/department.
Take questions
Answer honestly
Example: Between now and the 3rd, Judith will be training Paul on the intricacies of the role. There will be plenty for him to learn, especially as we are in the middle of the Grimshaw project. I am hoping that the support team will be on hand to help here, as well as keeping the transition as seamless as possible for the client. Would anyone like to ask anything about the staff changes? I would imagine there are a few points to be cleared up?
Ending your speech by asking for questions for your employees will stop them feeling as though they are not a part of the decision and will keep everyone positive about the changes.
You might also like...