Speech Making: Producing a Good Computer Presentation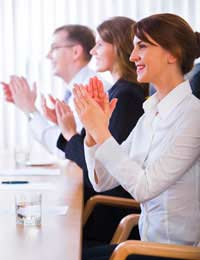 It's very rare these days to see a business speech that is not accompanied with a computer presentation of some kind. On a large scale multiple screens are used, dwarfing the presenter on the stage below. Now that projectors are getter smaller and cheaper (see below for the latest developments) even a presentation to a handful of people is likely to be accompanied by a computer presentation.
But how many times have you sat through a business speech wondering why the presenter had bothered with constructing a computer presentation to go along with it? If that has happened it has almost certainly been because the presentation is too flashy, too full of gimmicks and, very often, has too many words on each slide.
Reign in the Words
The key to a good computer presentation is that it should enhance your speech, not detract from it. Too many people construct slides with tens of bullet points, effectively repeating what they are saying. You then divert people's attention to the text on the screen, not what you are presenting.
Keep words to a minimum with a handful of bullet points, six at the most, on each slide and keep them brief. Don't over use transition effects, but consider covering each bullet point and revealing it as you begin to speak about that point. This makes the computer presentation emphasise the point you about to make, keeping the audience on track.
Use Pictures to Reinforce, not Detract
Pictures are important too, as many people will remember pictures more readily than words. But those pictures, diagrams, graphics or charts must be relevant. If you find that you are skipping over particular pictorial content every time you deliver a certain business speech then remove them from the computer presentation.
Interspersing slides full of bullet points with the odd chart or diagram to help explain your point will also cause a change in the pace of a presentation. This also helps to keep the audience's attention on your presentation. But if you use charts or graphs of figures that are time-related, make sure you update them every now and then, or your audience may begin to discount what you are saying.
Take Care with Video
Using video in computer presentations is much easier than it used to be. Again make sure that the video adds something, don't include it for the sake of proving that you know how to integrate video into a computer presentation. If you are using video it's worth taking your own laptop and using that to make the actual presentation.
There are still a number of different video formats in use and you can't always be certain that the PC that you will be offered at a venue will have the right software to work with the format you have chosen. If you do take your own laptop make sure you have a number of different video leads and converters as this will increase the chance of you being able to link your laptop into the venue's projector
Technology Improvements for Computer Presentations
One development that is going to make computer presentations even more ubiquitous is the arrival on the market of very small projectors. These devices use LED or OLED technology and therefore do not require expensive and hot bulbs. This in turn means that they require fewer fans and are therefore are quieter, cooler and use less electricity. They are also about a quarter to a sixth of the size of the smallest conventional projector and can run on batteries as well as mains power.
Very soon it is envisaged that these devices will become the size of mobile phones and will then even be added into mobile phones. These technological advances will remove the logistical problems associated with going to a venue and making sure that the right computer and projector are available.
You might also like...